And, as if by magic, the webmaster appeared...
Staff member
Admin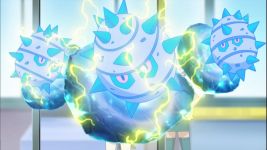 Ferroseed Research Institute! Iris and Vanilluxe!!
On their way to Tachiwaki City, Ash & Co. meet up with Georgia and find a nearby facility where scientists are doing some tests on some Chargestones. However, when an accident happens, an electrified moss from Ferroseed starts spreading throughout the area. Getting cut off from the group, Iris finds herself stuck with an Ice-type Pokémon, Vanilluxe and has to work a way to stop the moss using the thing she hates most, Ice-type Pokémon. Will the moss stop spreading?
Visit The Episode Guide
Discuss