And, as if by magic, the webmaster appeared...
Staff member
Admin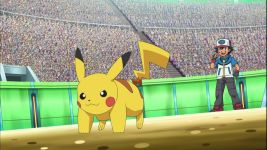 The Unova League Higaki Tournament Begins! Ash VS Trip!!
The time has come. Ash & Co. have arrived in Higaki City for the Unova League. When there, they meet up with Stephan, Bianca, Trip and Virgil. All registering for the tournament, they soon find Kotetsu who has been camping to make sure he doesn't miss the tournament, only to find out that he forgot to register. After helping him register, the preliminary battles of 128 people begin. However, Ash gets matched up with Trip straight away. With Ash using Pikachu and Trip using Serperior, the battle is sure to be tense...
Visit The Episode Guide
Discuss