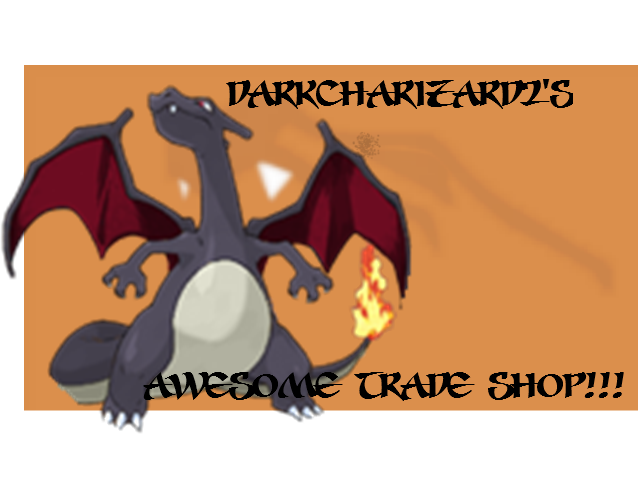 Hello! Welcome to my Trade Shop! It is now re-opened, so feel free to trade!
If you are here for trading, then good for you! You have strolled into an awesome shop with friendly workers!
Here
is an Xat chat where you can work out negotiations. Anyone is free to go on. Just tell me if I need to member anyone. It does not matter who you are trading with or what kind of Pokemon you are trading, feel free to go on.
First off, some rules:
1. All Sppf rules apply.
2. No Flaming, trolling, or Spamming.
3. No means No.
4. No hacks.
5. Only post offers in shop.
6. If a hack is in the trade, a trade back is required immediately.
7. I can only trade with Gen. 5 games
8. Don't offer anything that isn't shiny unless it is an event.
9. Be considerate of and nice to others
10. Enjoy your visit
11. I live in Eastern Standard Time.
12. This is just a placeholder rule.
13. Be patient. I am very busy outside of Serebii.
14. Please be specific as possible when offering.
Shop Status:
Open!
And finally, here are the Pokemon!
Popularity Poll Arceus
43870 Popularity Poll Arceus Bashful Nature, Likes to Run
22555 Japanese Popularity Poll Arceus Mild Nature, Somewhat vain

Japanese DW Starters
06189 Squirtle Bold Nature, Highly Nature
21077 Treeko Hasty Nature, Often dozes off

Korean DW Starters
06074 Charmander Relaxed Nature, Loves to eat
52408 Squirtle Rash Nature, Somewhat stubborn

Christmas Blissey
27185 Christmas Blissey Quiet Nature, Quick tempered

Birthday Togekiss
43870 Birthday Togekiss Timid Nature, Somewhat stubborn

DW Event Mamoswine
43870 Mamoswine Calm Nature, Quick tempered
05560 Mamoswine Jolly Nature, Thoroughly cunning

Cafe Smeargle
26821 Cafe Smeargle Serious Nature, Often lost in thought

Halloween Banette
43870 Halloween Banette Rash Nature, Often dozes off

DW Event Croagunk
43870 Croagunk Impish Nature, Somewhat of a clown

Befriend a Pokemon! Eeveeloutions
38476 Umbreon Relaxed Nature, Likes to run
2012MAY Darkrai
05092 2012MAY Darkrai Rash Nature, Somewhat vain
05092 2012MAY Darkrai Mild Nature, Somewhat vain
05092 2012MAY Darkrai Impish Nature, Scatters things often
Movie 14 Events
03102 Movie 14 Reshiram Lax Nature, Loves to eat
03102 Movie 14 Zekrom Modest Nature, Hates to lose
03102 Movie 14 Zekrom Serious Nature, Good Perseverance
12031 Movie 14 Victini Hasty Nature, Alert to sounds
12031 Movie 14 Victini Bold Nature, Strongly Defiant
Pokemon World Championships
03032 VGC12 Larvitar Adamant Nature, Often dozes off
*Flawless*
FEB2012 Mewtwo
02112 FEB2012 Mewtwo Brave Nature, Quick to flee
02112 FEB2012 Mewtwo Impish Nature, Somewhat vain
02112 FEB2012 Mewtwo Timid Nature, Scatters things often
EVENT11 Zoroark
09161 EVENT11 Zoroark Quirky Nature, Likes to relax
WIN2011 Dogs
02071 WIN2011 Raikou Rash Nature, Somewhat stubborn
02141 WIN2011 Entei Adamant Nature, Likes to thrash about
02211 WIN2011 Suicune Relaxed Nature, Very finicky
GAMESTP Dogs
01031 GAMESTP Raikou Rash Nature, Impetuous and silly
01171 GAMESTP Entei Adamant Nature, Capable of taking hits
01311 GAMESTP Suicune Relaxed Nature, Proud of its power
TRU Events
11088 TRU Dragonite Mild Nature, Often dozes off
03089 TRU Regigigas Hasty Nature, A little quick tempered
11079 TRU Arceus Lonely Nature, Quick to flee
09297 TRU Manaphy Mild Nature, Somewhat of a clown
PKTOPIA Events
06257 PKTOPIA Electivire Adamant Nature, Likes to run
06257 PKTOPIA Magmortar Modest Nature, Capable of taking hits
Jirachis
06260 SMR2010 Jirachi Naughty Nature, Likes to run
40122 CHANNEL Jirachi Rash Nature, Mischievous
PCNY
00077 PCNYd Flygon Modest Nature, Impetuous and silly
00018 PCNYd Salamence Sassy Nature, Mischievous
Etcetera
03208 Almia Darkrai Sassy Nature, Likes to thrash about
Powerful Tag
05072 Powerful Tag Ninetails Bold Nature, Capable of taking hits
05072 Powerful Tag Chandelure Modest Nature, Mischievous
06012 Powerful Tag Lucario Naughty Nature, Likes to thrash about
06012 Powerful Tag Whimsicott Timid Nature, Alert to sounds
Movie 14 Events
04161 Movie 14 Victini Adamant Nature, Mischievous
Pokemon Center Pikachu
03232 Pokemon Center Pikachu Calm Nature, Hates to lose
Kyushu Bullet Train Pikachu
03012 Bullet Train Pikachu Naive Nature, Quick to flee
Strongest Pokemon Events
01158 Strongest Pokemon Dragonite Mild Nature, Good endurance
11157 Strongest Pokemon Electivire Serious Nature, Often scatters things
12017 Strongest Pokemon Magmortar Hardy Nature, Good perseverence
03172 Strongest Pokemon Walrein Docile Nature, Often dozes off
03172 Strongest Pokemon Salamence Naive Nature, Proud of its power
03172 Strongest Pokemon Metagross Timid Nature, Highly curious
03172 Strongest Pokemon Metagross Adamant Nature, Often dozes off
*Shiny*
03172 Strongest Pokemon Milotic Hardy Nature, Often dozes off
03172 Strongest Pokemon Ludicolo Hasty Nature, Scatters things often
03172 Strongest Pokemon Gardevoir Naive Nature, Often dozes off
03172 Strongest Pokemon Blaziken Hasty Nature, Alert to sounds
03172 Strongest Pokemon Sceptile Timid Nature, Likes to run
03172 Strongest Pokemon Swampert Quiet Nature, A little quick tempered
PC Fukuoka
03172 PC Fukuoka Kyogre Impish Nature, Loves to eat
03172 PC Fukuoka Kyogre Modest Nature, Strongly defiant
*Shiny*
03172 PC Fukuoka Groudon Hardy Nature, Alert to sounds
03172 PC Fukuoka Groudon Adamant Nature, Capable of taking hits
*Shiny*
*Flawless*
Nobunaga's Ambition Rayquaza
03172 Nobunaga's Ambition Rayquaza Jolly Nature, Quick to flee
Pokemon Popularity Poll Rayquaza
02102 Pokemon Popularity Poll Rayquaza Jolly Nature, Mischievous
02102 Pokemon Popularity Poll Rayquaza Adamant Nature, Proud of its power
Year of the Dragon
53222 Year of the Dragon Deino Calm Nature, Often dozes off
53222 Year of the Dragon Trapinch Impish Nature, Likes to fight
PCJP Events
37254 Wish Bagon Brave Nature, Somewhat of a clown
Miscellaneous
11219 SUSUMU Mew Lonely Nature, good Perseverence
44845 Birth Island Deoxys (Defense Form) Modest Nature, Capable of taking hits
07147 Movie Darkrai Lax Nature, Likes to run
Korean Cinema Celebi
12230 Korean Cinema Celebi Modest Nature, A little quick tempered

1 Year BW Anniversary Mewtwo
03042 1 Year BW Anniversary Mewtwo Timid Nature, Often scatters things

Pokemon Movie 11 Events
11031 Pokemon Movie 11 Hydreigon Modest Nature, Often dozes off
11031 Pokemon Movie 11 Golurk Adamant Nature, Capable of taking hits
12221 Pokemon Movie 11 Reshiram Calm Nature, Often scatters things
12221 Pokemon Movie 11 Zekrom Adamant Nature, Often dozes off
12221 Pokemon Movie 11 Victini Jolly Nature, Often dozes off

Shinsegae Events
07049 Shinsegae Feebas Calm Nature, Often dozes off
07049 Shinsegae Munchlax Relaxed Nature, Often scatters things

Home Plus Darkrai
09031 Home Plus Darkrai Sassy Nature, Somewhat stubborn

NoK
12249 NoK Arceus Adamant Nature, Sturdy Body
03298 Nok Manaphy Adamant Nature, Likes to run
03219 NoK Mew Bashful Nature, Likes to run
SMR2011 Events
06011 SMR2011 Karrablast Naive Nature, Quick tempered
06011 SMR2011 Shelmet Calm Nature, Loves to eat
06011 SMR2011 Zoroark Quirky Nature, Somewhat stubborn
Last edited: