And, as if by magic, the webmaster appeared...
Staff member
Admin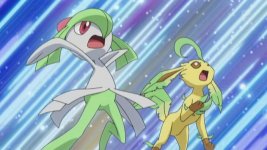 Double Battle! Mamoswine & Cyndaquil!
In the next town, Ash & Co. arrived just in time to see Zoey win a Pokémon Contest and gain her fifth ribbon. Meeting with the Snowpoint City Gym Leader, Candice, Dawn decides to start training her Pokémon for the next contest. In her training, she decides to have a double battle against her rival, Zoey. Who will win?
Visit The Episode Guide
Discuss