And, as if by magic, the webmaster appeared...
Staff member
Admin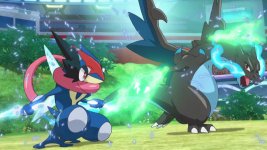 Kalos League Victory! Ash's Ultimate Match!!
The Kalos League Final continues and it is getting tense. With Alain just having Bisharp and Charizard left, Ash has the upper hand with Goodra, Pikachu and Greninja still in reserve. With Pikachu already worn out after taking out Tyranitar and Metagross, it may not last long. Who will emerge triumphant in this battle and become the Kalos League Champion?
Visit The Episode Guide
Discuss