And, as if by magic, the webmaster appeared...
Staff member
Admin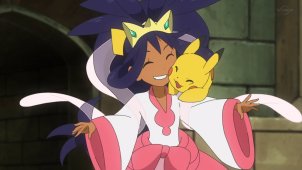 Dragon Battle! Ash VS Iris!!​
Ash has received a letter from his old friend, Iris, challenging him to a battle. Ash eagerly takes the challenge and he and Goh go to Oplucid City in the Unova region to meet Iris. Iris has been training hard and has become the Champion of the Unova region and wants to put Ash's Dragon-type Pokémon to the test. Being able to see the hearts of Ash's Dragonite & Dracovish, the battle is to be tough. Will Ash be able to defeat his old friend?
Visit The Episode Guide
Discuss