And, as if by magic, the webmaster appeared...
Staff member
Admin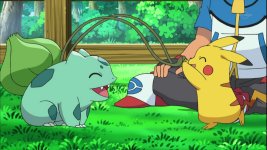 My Dream: Pokémon Master!
Having parted ways with Iris and Cilan, Ash returns to Pallet Town with Alexa. Initially intending to go to Professor Oak's laboratory to see his Pokémon, Alexa convinces Ash to pay a visit to his mother first. After some time there, Ash gets restless and heads to Professor Oak's laboratory and starts to reflect on his journey through Unova and the Decolore Islands, and starts to think abotu where to go next. However, as he is doing so, Team Rocket attacks the laboratory. Will Ash and his Pokémon protect the lab?
Visit The Episode Guide
Discuss