And, as if by magic, the webmaster appeared...
Staff member
Admin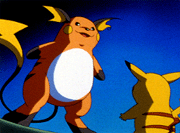 Electric Shock Showdown!
Arriving in Vermillion City, Ash is anxious to battle the gym leader. However the gym leader is unbeatable and has a Raichu. After losing the first time...Ash needs to rethink his strategy...can Pikachu really beat this Raichu?
Visit The Episode Guide
Discuss