And, as if by magic, the webmaster appeared...
Staff member
Admin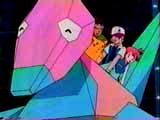 Electric Soldier Porygon!
On their travels, Ash & Co. meet a Nurse Joy who is having trouble with the Pokémon Transportation system. Ash & Co. Volunteer to help and go into the system with Porygon, however Team Rocket follow them...
Visit The Episode Guide
Discuss