With the release of X and Y, we've seen a rise in more balanced teams with the weather nerf, as well as the defog buff, making the mindless weather offensive teams of BW gone, making the meta far more enjoyable. That said, this is the last BW team I made, and probably will make. Its won a lot of matches, faired well against good players, and only usually falls to haxes, misplays, and weird sets.
The idea of the team came from me trying to find something worth using that isn't standard as hell, and the original idea was to mess around with the 3 legendary dogs. Raikou shone more on the team, and ended up being the first part of the offensive core of the team, baiting in bulky grasses and dragons, namely latias and celebi, which stop keldeo, making it an excellent bait, volt-turning into tyranitar who traps keldeos checks, while pressuring the others. This also helps another, more underrated sweeper, landorus therian, who struggles with a lot of the same stuff, plus a few others such as rotom wash that both raikou and keldeo pressure.
Ferrothorn @ Leftovers
Trait: Iron Barbs
EVs: 252 HP / 48 Def / 208 SDef
Relaxed Nature (+Def, -Spd)
- Spikes
- Leech Seed
- Power Whip
- Gyro Ball
Ferrothorn works with jellicent to make the ferro-cent core popularized in BW 1, working together to shut down rain teams that are everywhere. Ferrothorn plays a key role in setting up spikes, working with tyranitar who sets up rocks and traps threats, and jellicent who spin blocks, making a powerful defensive core to play early and mid game, ment to stop other defensive threats and limit the ability of the opponent to switch, making it easier late game for keldeo and landorus. Evs are standard, more is pushed into sp def to handle special attackers like double dance thundurus, as well as jirachi that lacks fire punch. Moves are also standard, leech seed gives ferrothorn more healing ability, as well as create chances to set up spikes as the opponent will likely switch. Power whip is to hit waters hard, while gyro ball is for what resists power whip and hit scarf user hard, as well as dragon dancers locked in outrage.
Jellicent @ Leftovers
Trait: Water Absorb
EVs: 248 HP / 252 Def / 8 SDef
Bold Nature (+Def, -Atk)
- Toxic
- Will-O-Wisp
- Scald
- Recover
Jellicent plays a role similar to ferrothorn, checking a lot of the same stuff, plus a few others, namely keldeo and pivot into terrakion. Jellicent spin blocks for the team, as well as burn threats that switch in such as rotom wash, amoonguss, and tyranitar. Jellicent is physically defensive to, as i said above, pivot into physical threats and cripple them, or at least soften them for landorus therian. Jellicent's moves are standard, I forgo taunt as most things that i would taunt, ex ferrothorn and skarmory, i`d rather burn of switch in raikou and force them out/KO them. Toxic is really helpful to weaken walls such as rotom and other jellicents, while scald and WoW do the same thing, but will o wisp is a guarantied burn while scald isn't, meaning if i need the burn i can get it and not bank on a 30% chance. Jellicent often plays early and mid game, spreading status to slowly wear down walls and threats with the support of ttar and ferrothorn, helping the sweepers late game.
Tyranitar @ Leftovers
Trait: Sand Stream
EVs: 252 HP / 60 SAtk / 196 SDef
Sassy Nature (+SDef, -Spd)
- Crunch
- Stealth Rock
- Ice Beam
- Pursuit
Tyranitar is the last of the defensive core, as well as part of the offensive core. While everyone uses mindless offensive spearheaded by scarfed keldeo, often supported with banded tyranitar, this team takes a more defensive and arguably effective approach. Sp def tyranitar is underrated as it lacks the raw power of banded tyranitar, but is better at trapping with its longevity, as well as its ability to be mixed. While banded tyranitar is 2hkoed by LO and speced latios's surf, sp defensive tyranitar can sit there and take around 20%, to lazy to calc, and set up rocks, then play mind games. A lot of times, latios and latias will stay in as they can live pursuit, so I run crunch to KO them, as well as check cm latias and reuniclus. Pursuit is still needed, but its generally easy to tell which you need to use, tho depsite both crunch and pursuit, tyranitar struggles with trapping celebi due to baton pass, but helps with scarfed rotom as tyranitar can take scarfed volt turn easily and pursuit it, tho its not a good idea when you still have ferrothorn. Ice beam is the last move, ment to get rid of landorus therian, whos a common threat, and stops double dance landorus. Any form other then pivot landorus is OHKOed, which plays in my favor as most landorus therians will set up on tyranitar, while pivot landorus will set up rocks or u turn, allowing tyranitar to escape without a lot of damage. Like the other parts of the defensive cores, tyranitar plays early and mid game, sometimes late game but very rarely.
Raikou @ Expert Belt
Trait: Pressure
EVs: 4 Def / 252 SAtk / 252 Spd
Rash Nature (+SAtk, -SDef)
- Volt Switch
- Aura Sphere
- Weather Ball
- Hidden Power [Ice]
Raikou was a devestating force in adv OU, but fell in dpp, gaining a little bit of favor at the end with the event moves, but rash isnt the best nature, but gives him some nice speed still. With BW, raikou fell to UU, but people still try to use him as a cm sweeper, or a speced user. I say, screw that raikou has enough moves to act as a bait, working well with landorus and keldeo, so why not use it in the niche roll it has. Because I use aura sphere and weather ball, i have to use rash, which makes raikou outspeed by terrakion, keldeo, and latias, but raikou doesn't care, as a latias switch in is common so i can just click volt switch, while raikou has no place staying in on terrakion or keldeo. Volt switch is the key move to this set, allowing raikou to trap threats, as well as force switches, so i can rack up damage from hazards. Aura sphere is to nail steels, namely ferrothorn, i think it 2hkos, while hp ice is to ohko landorus therian and dragons. Weather ball is odd, but has its uses. It allows raikou to check annoying pokemon like volcarona in the sand, as well as hit thundurus therian harder in the rain, and venusaur in the sun. Because of this, raikou is somewhat anti weather, being able to pressure common weather sweepers with weather ball and volt switch. Because of the expert belt, raikou plays funny. Its important to play like its scarfed early game so that mid and late game the opponent switches in threats such as landorus into an obvious volt switch, then it gets KOed by hp ice, or tyranitar into hp ice and gets KOed by aura sphere, as well as heatran. Raikou sometimes plays late game but not to often, its often between sweeps if keldeo is forced out, or keldeo and landorus die.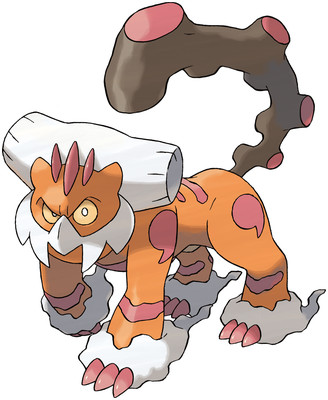 Landorus-T @ Leftovers
Trait: Intimidate
EVs: 64 HP / 252 Atk / 4 Def / 188 Spd
Adamant Nature (+Atk, -SAtk)
- Earthquake
- Stone Edge
- Rock Polish
- Swords Dance
Double dance landorus therian is a devastating sweeper able to sweep after one boost depending on whats left on the opponents team. Faster team, rock polish, slower teams, swords dance. Landorus's evs are so hes more offensive then the defensive spread. The moves are standard, double boosting moves, as well as quake edge coverage allows it to muscle through most pokemon, struggling with landorus therians, gliscors, and skarmory, all which can be checked with raikou and keldeo offensively. This makes landorus often the main sweeper, coming in late game and boosting, while it can play as a pivot mid game, but ferrothorn or jellicent allow it to be not needed as much. Because of the offensive pressure landorus puts on, leftovers are used so it has more longevity, plus it doesn't need a life orb to score a lot of KOs. Finally, landorus plays a key roll as a way to handle stall teams with raikou, setting up swords dance and muscling through common stall pokemon. Tho its not common, its good to be prepared for it.
Keldeo @ Choice Scarf
Trait: Justified
EVs: 252 SAtk / 4 SDef / 252 Spd
Timid Nature (+Spd, -Atk)
- Secret Sword
- Hydro Pump
- Icy Wind
- Hidden Power [Electric]
The face of most offensive teams, Keldeo is one of the most commonly used pokemon because its disgustingly easy to use in rain, basically just click surf/hydro pump. Keldeo plays a role on this team as a revenger mid game, and a sweeper late game. Keldeo is my main way to stop boosting sweepers such as gyarados and dragonite. With a standard spread and standard moves, there really isnt much to say as this is standard as hell. Keldeo does play a big role, but a lot of time is overshadowed by landorus therian as a sweeper, and landorus is often more fun to sweep with, but keldeo does a nice job shutting down rain teams, abusing their weather, making it a nice wall breaker mid game along side raikou.
And thats it, as i said, the team has played very well for me, but isnt perfect. Shout out to montresor for helping me test this and giving a bit of input as well, as well as donut and dragonuser for also helping me test.
Ferrothorn (F) @ Leftovers
Trait: Iron Barbs
EVs: 252 HP / 48 Def / 208 SDef
Relaxed Nature (+Def, -Spd)
- Spikes
- Leech Seed
- Power Whip
- Gyro Ball

Jellicent (M) @ Leftovers
Trait: Water Absorb
EVs: 248 HP / 252 Def / 8 SDef
Bold Nature (+Def, -Atk)
- Toxic
- Will-O-Wisp
- Scald
- Recover

Raikou @ Expert Belt
Trait: Pressure
EVs: 4 Def / 252 SAtk / 252 Spd
Rash Nature (+SAtk, -SDef)
- Volt Switch
- Aura Sphere
- Weather Ball
- Hidden Power [Ice]

Tyranitar (F) @ Leftovers
Trait: Sand Stream
EVs: 252 HP / 60 SAtk / 196 SDef
Sassy Nature (+SDef, -Spd)
- Crunch
- Stealth Rock
- Ice Beam
- Pursuit

Landorus-T (M) @ Leftovers
Trait: Intimidate
EVs: 64 HP / 252 Atk / 4 Def / 188 Spd
Adamant Nature (+Atk, -SAtk)
- Earthquake
- Stone Edge
- Rock Polish
- Swords Dance

Keldeo @ Choice Scarf
Trait: Justified
EVs: 252 SAtk / 4 SDef / 252 Spd
Timid Nature (+Spd, -Atk)
- Secret Sword
- Hydro Pump
- Icy Wind
- Hidden Power [Electric]