And, as if by magic, the webmaster appeared...
Staff member
Admin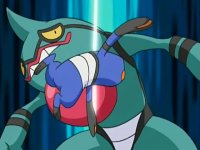 Lovely Fashion! Their Name is Team Galactic!
Deciding to move on to Pastoria City for the next gym bade, Ash & Co. inadvertantly get caught up in a massive fiasco when Team Galactic turn. Eager to serve their evil purpose for world conquest, Saturn takes on Ash & Co. in order to get a special artefact. Can Ash & Co. stop Saturn or will the evil team get away with it?
Visit The Episode Guide
Discuss