And, as if by magic, the webmaster appeared...
Staff member
Admin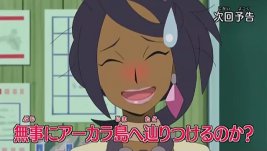 Enter Olivia! Cry and Laugh, Island Queen!!
As the group prepares to go for a trip to Akala Island, the Island Kahuna, Olivia, appears to act as their guide. Olivia has a certain charm that allows her to calm wild Pokémon and even the trainers Pokémon grow attached to her. However on the way to the island, some Water Pokémon start causing issues. Will they be able to make it to the island?
Visit The Episode Guide
Discuss