Edited on July 12,2009
Hello! I decided to return to this forum after a looong time.
In this thread ill be uploading my newest sprite works.Hope you like them =)
Constructive criticism is always welcome,of course.
Btw,you might notice I rarely use black on the outline of my sprites.I do this on purpose.I personally preffer to use darker variations of the skin of the sprite rather than black.
So,with that cleared up,ill start uploading:
Sprite Works
Argenia Region (My country as a region)
(Made for a future game
okemon Argent Version)

Coalite
Fire
(Torkoal Preevo)

Geystoise
Fire/Water
(Torkoal Evo)
(Use Water Stone with Ancientpower learned)
Arceus Genesis form
???
Counterpart of Giratina's origin form.This is the form in which Arceus,with all the plates attached,molded the entire universe.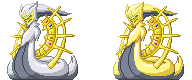 Skurrudge (Alternate evolution of Cubone)
Ground/Ghost
I have a special feeling with this one,because of the story behind it.
Evolves from Cubone at lvl 28 with frustration maxed out.
Why this happens?:
"Sometimes,the sadness,anger and frustration of a Cubone for the loss of his mother is so strong that her spirit cant rest in peace,and stays in our realm.More precisely,in the skull the little one wears.
BUT if the bond between them was too strong and Cubone develops a strong depression,whether is because of the whole situation (and/or being in real danger),her spirit will end up returning to our realm through the skull,living within her son in mind,body and heart,to jump over the natural barriers of life and death,and be together in this realm till the end of Cubone's natural life."
To put it short:The mother spirit lives in the skull and within Cubone (Now a Marowak,but with the powers of ghosts).
Wastery
(Muk Evo)
Steel/Poison
A walking waste factory
Lampkin
Grass (Becomes grass/fire on halloween)

Pumpyre
Grass/fire
Galaxys alternate form
Psychic
As shown on the Art thread
Manatwo
Water/Psychic
The clone of Manaphy.I couldnt decide which one is better,so I kept both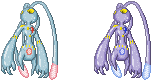 Battle scene:Manatwo vs Mewtwo
Battle based on the picture of Manatwo vs Mewtwo I uploaded in the Art thread
Battle scene:Arceus Genesis
Ill be uploading future sprite works from now on.See ya later.​
Last edited: