And, as if by magic, the webmaster appeared...
Staff member
Admin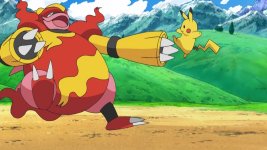 Full Battle! Paul VS Ash!
The battle between Ash & Paul continues. With Paul sending out his newly evolved Magmortar against Pikachu, the battle is heating up. Feeling he has to win, Ash endeavours to defeat Paul and sends out Chimchar. However, will Chimchar be able to defeat the Pokémon of his former master?
Visit The Episode Guide
Discuss