And, as if by magic, the webmaster appeared...
Staff member
Admin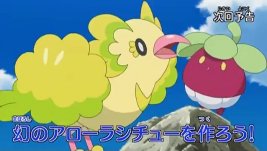 For Real?! Mallow's Cooking Operation!
Mallow has come up with a new food item for the cafeteria, and Ash & co. all decide to ask Mallow to try it. However, the stew doesn't actually taste good and Mallow states that they need some Yellow Nectar in order to finish it, but the problem is that Yellow Nectar is hard to come by at the moment. Due to this, Ash & Mallow decide to go hunt for some Yellow Nectar, but it seems Team Rocket have a nefarious scheme at hand..
Visit The Episode Guide
Discuss