And, as if by magic, the webmaster appeared...
Staff member
Admin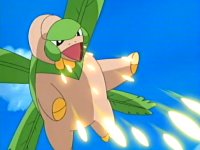 From Brags To Riches
The Hoenn League has come and Ash has managed to get through to the proper league. His new rival Morrison has also progressed this far and must win a battle against a Marowak & Machamp. Ash meanwhile has to go through a tough battle against a Tropius & a Swalot with his Corphish & Torkoal. Will Ash manage to get through to the next round of the finals?
Visit The Episode Guide
Discuss
Last edited by a moderator: