And, as if by magic, the webmaster appeared...
Staff member
Admin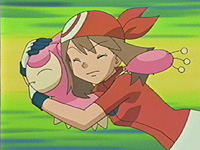 Game Winning Assist!
Heading towards Lavaridge, Ash & Co. find a meadow of Numel. May, eager to train her recently caught Skitty, challenges a Numel to a battle and teaches her Skitty Assist. However Team Rocket arrive to capture the Numel. Will they succeed?
Visit The Episode Guide
Discuss