Title says it all. So far, we've seen 23 Pokemon. In addition to the new starters, we have Pikachu, Meowth, Psyduck, Magnemite, Hoppip, Blissey, Larvitar, Pelipper, Swablu, Seviper, Starly, Combee, Drifloon, Lucario, Petilil, Red Flower Flabebe, Clauncher, Bounsweet and Stonjourner. Also, you can bring Hisuian Zoroark over from Legends via Pokemon Home. It's entirely possible that other forms of these Pokemon are usable, and their evolutionary relatives will probably pop up too.
EDIT: Here are the lists of confirmed and semi-confirmed Pokemon so far. Will be updated as time progresses.
EDIT 2: Games are out, changing the lists to Palda Dex Pokemon and other available Pokemon. First list will be in Paldea Dex order, second will be in National Dex order. Also have links to the Serebii pages if you want.
Paldea Dex: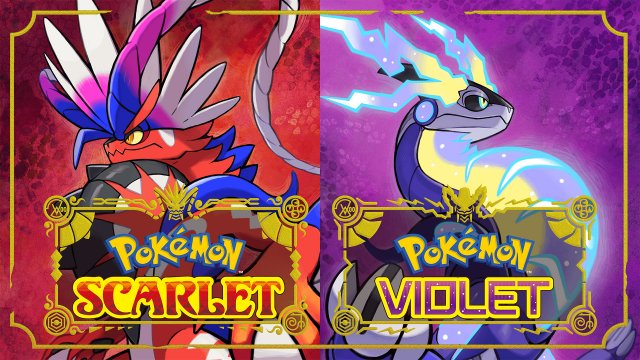 The Paldea Pokédex listing all Pokémon found within the regional Pokédex and available in Pokémon Scarlet & Violet on Nintendo Switch

www.serebii.net
Sprigatito family
Fuecoco family
Quaxly family
Lechonk family
Tarountula family
Nymble family
Hoppip family
Fletchling family
Pawmi family
Houndour family
Yungoos family
Skwovet family
Sunkern family
Kricketot family
Scatterbug family (Fancy Pattern Vivillon available, other forms obtainable through transfer)
Combee family
Rookidee family
Chansey family
Marill family
Surskit family
Buizel family
Wooper (Paldean, regular form available through in-game trade)
Clodsire (evolution of Paldean Wooper)
Psyduck family
Chewtle family
Jigglypuff family
Ralts family
Drowzee family
Gastly family
Tandemaus family
Pikachu family (Ash-Pikachu and Alolan Raichu available through transfer)
Fidough family
Slakoth family
Bounsweet family
Smoliv family
Sudowoodo family
Rockruff family (all Lycanroc forms available)
Rolycoly family
Shinx family
Starly family
Oricorio (all forms obtainable)
Mareep family
Petilil family (Hisuian Lilligant available through transfer)
Shroomish family
Applin family
Spoink family
Squawkabilly
Misdreavus family
Makuhita family
Crabrawler family
Salandit family
Phanpy family
Cufant family
Gible family
Nacli family
Wingull family
Magikarp family
Arrokuda family
Basculin (Red and Blue Stripe available, White Stripe can be transferred)
Gulpin family
Meowth and Persian (Galarian Meowth available as in-game gift, Alolan forms can be transferred)
Drifloon family
Flabebe family (all colors available)
Diglett family (Alolan forms are available through transfer)
Torkoal
Numel family
Bronzor family
Axew family
Mankey family (includes new member Annihilape)
Meditite family
Riolu family
Charcadet family
Barboach family
Tadbulb family
Goomy family (Hisuian Sliggoo and Goodra available through transfer)
Croagunk family
Wattrel family
Eevee family
Dunsparce and new evolution Dudunsparce
Deerling family (all forms available)
Girafarig and new evolution Farigiraf
Grimer family (Alolan forms available through transfer)
Maschiff family
Toxel family (Both Toxtricity forms available)
Dedenne
Pachirisu
Shroodle family
Stantler
Foongus family
Voltorb family (Hisuian forms available through transfer)
Magnemite family
Ditto
Growlithe family (Hisuian forms available through transfer)
Teddiursa and Ursaring
Zangoose
Seviper
Swablu family
Skiddo family
Tauros (Paldean, three different forms, regular form available through transfer)
Litleo family
Stunky family
Zorua family (Hisuian forms available through transfer)
Sneasel and Weavile (Hisuian Sneasel available through transfer)
Murkrow family
Gothita family
Sinistea family
Mimikyu
Klefki
Indeedee
Bramblin family
Toedscool family
Tropius
Fomantis family
Klawf
Capsakid family
Cacnea family
Rellor family
Venonat family
Pineco family
Scyther and Scizor
Heracross
Flittle family
Hippopotas family
Sandile family
Silicobra family
Mudbray family
Larvesta family
Bagon family
Tinkatink family
Hatenna family
Impidimp family
Wiglett family
Bombirdier
Finizen family
Varoom family
Cyclizar
Orthworm
Sableye
Shuppet family
Falinks
Hawlucha
Spiritomb
Noibat family
Dreepy family
Glimmet family
Rotom (all forms available)
Greavard family
Oranguru
Passimian
Komala
Larvitar family
Stonjourner
Eiscue
Pincurchin
Sandygast family
Slowpoke family (Galarian forms available through transfer)
Shellos family (Both West and East Sea available)
Shellder family
Qwilfish (Hisuian form available through transfer)
Luvdisc
Finneon family
Bruxish
Alomomola
Skrelp family
Clauncher family
Tynamo family
Mareanie family
Flamigo
Dratini family
Snom family
Snover family
Delibird
Cubchoo family
Snorunt family
Cryogonal
Cetoddle family
Bergmite family (Hisuian Avalugg available through transfer)
Rufflet family (Hisuian Braviary available through transfer)
Pawniard family (including new member Kingambit)
Deino family
Veluza
Dondozo
Tatsugiri
Great Tusk (Past Donphan)
Scream Tail (Past Jigglypuff)
Brute Bonnet (Past Amoonguss)
Flutter Mane (Past Misdreavus)
Slither Wing (Past Volcarona)
Sandy Shocks (Past Magneton)
Iron Treads (Future Donphan)
Iron Bundle (Future Delibird)
Iron Hands (Future Hariyama)
Iron Jugulis (Future Hydreigon)
Iron Moth (Future Volcarona)
Iron Thorns (Future Tyranitar)
Frigibax family
Gimmighoul family
Treasures of Ruin (new legendary quartet consisting of Wo-Chien, Chien-Pao, Ting-Lu and Chi-Yu)
Roaring Moon (Past Salamence)
Iron Valiant (Future Gardevoir/Gallade hybrid)
Koraidon
Miraidon
Total: 400
Other available Pokemon (most are transfer only):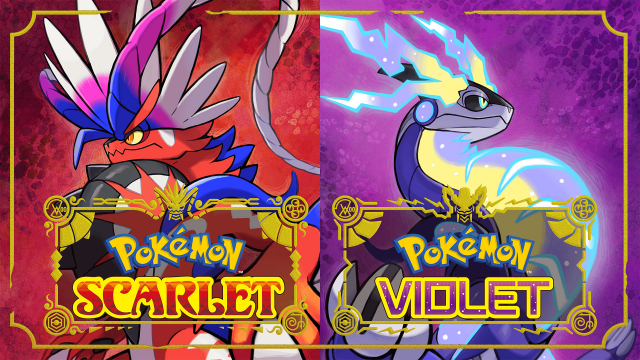 Transfer Only Pokémon introduced in Pokémon Scarlet & Violet for Nintendo Switch. Lists all the Pokémon that can only be found in the game through transfer or events

www.serebii.net
Charmander family
Legendary birds (Articuno, Zapdos and Moltres, regular and Galarian forms available)
Mew duo (Mewtwo and Mew)
Cyndaquil family (regular and Hisuian Typhlosion available)
Quagsire
Weather trio (Kyogre, Groudon and Rayquaza)
Lake spirits (Uxie, Mesprit and Azelf)
Reality trio (Dialga, Palkia and Giratina, Altered and Origin formes of all three available)
Heatran
Cresselia
Arceus
Oshawott family (regular and Hisuian Samurott available)
Forces of Nature (Tornadus, Thundurus, Landorus and Enamorus from Legends, Incarnate and Therian formes of all four available)
Meloetta (both Aria and Pirouette forms available)
Chespin family
Fennekin family
Froakie family (unsure about Ash-Greninja)
Carbink
Diancie
Hoopa (Confined and Unbound formes available)
Volcanion
Rowlet family (regular and Hisuian Decidueye available)
Magearna (regular and Original Color forms available)
Grookey family
Scorbunny family
Sobble family
Perrserker
Warrior trio (Zacian, Zamazenta and Eternatus, Hero of Many Battles and Crowned formes for former two available)
Kubfu family (Single and Rapid Strike Urshifu available)
Zarude (regular and Dada forms available)
Regieleki and Regidrago
Royalty trio (Glastrier, Spectrier and Calyrex, Absofused forms of Calyrex available)
Wyrdeer
Kleavor
Ursaluna
Basculegion
Sneasler
Overqwil
Grand Total: 476
Last edited: