And, as if by magic, the webmaster appeared...
Staff member
Admin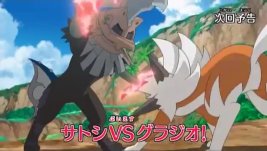 Gladion & Silvally! The Confinement Mask!!
Once again teleported away by Nebby, Ash soon finds himself in the presence of Gladion, and a Pokémon that Ash doesn't recognise. Gladion doesn't want to show this Pokémon off to anyone, and it has ties to his and Lillie's past. Ash is eager to help Gladion and challenges him to a battle: Lycanroc VS Type: Null. What is this mysterious Pokémon capable of?
Visit The Episode Guide
Discuss