And, as if by magic, the webmaster appeared...
Staff member
Admin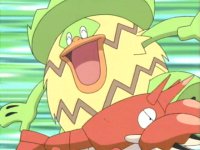 Dancing Battle! Ludicolo!
After having his Treecko evolve into Grovyle, Ash & Co. decide to take a break. Shocked to see his buddy has evolved, Corphish gets jealous of Grovyles strength. Ash gets challenged to a battle against a Ludicolo and uses Corphish. Will Corphish prove himself?
Visit The Episode Guide
Discuss