And, as if by magic, the webmaster appeared...
Staff member
Admin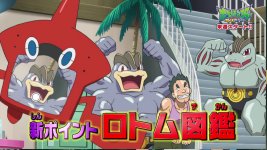 Good Rotomorning, I am the Rotomdex, Roto!
Ash has received a new Pokédex from Professor Kukui and is surprised to learn that this Pokédex actually has a Rotom in it. Ash is eager to try out his new friend and rushes out to the forest. However, Jessie & James of Team Rocket have just arrived in Alola under orders from Giovanni and spot Ash. Will they get Pikachu?
Visit The Episode Guide
Discuss