GWSC-Week #5 "Double Trouble"
ANY person can enter!
ANY website can participate!
ANY thing can happen! Its the...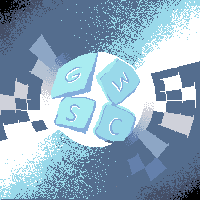 Give a round of applause to Frosty Voltorb, who won week 3 with 12 votest!
Welcome everyone to the fifth GWSC! It may be minor, but 5 weeks kind of feels like the first milestone. I'm pleased at the consistent stream of entries we've been getting, and hope to see many more
Medium:
Fusion
Sprite source
: Any official B/W sprite.(Any generation of pokemon though)
http://www.pokemonelite2000.com/sprites.html
Challenge:
"Double Trouble"
This week's idea just popped into my head, but is surely influenced by me growing up watching Dragon Ball Z week in and week out.
Your task is to fuse two of the same pokemon together. Two quagsire, two grimer, two whatever. What the end result looks like I'll leave pretty open. You might choose to double up on appendages, like giving Scyther Scissor blade hands, or Stantler two pairs of antlers. Or you might make bidoof's tooth that much bigger from the fusion. So yeah, whatever you can think of.
Restrictions/TroubleShooting
-It must be the same sprite/form. No fusing of Black/white kyurem or distortion/normal giratina, etc.
-Size limit is still 96x96
Post your entry here in the thread by 11:59p.m. Sunday, and voting will occur the following Monday! Good luck and I hope to see many entries. Ask if there are any questions
Last edited: