And, as if by magic, the webmaster appeared...
Staff member
Admin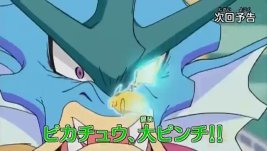 Gym Battle! Z-Move VS Mega Evolution!!
Still in Kanto, the group heads to Cerulean City to teach the Alola group about Pokémon Gyms. Having had his last match at Cerulean Gym interrupted, Ash is eager to have a proper match as demonstration, and Kiawe also wants to battle. As such, battles soon begin of Ash VS Misty and Kiawe VS Brock, but when they start to use their Z-Moves, Brock & Misty pull out their trump cards: Mega Evolution. Will Ash manage to push through the Mega Gyarados' strength with his Z-Move?
Visit The Episode Guide
Discuss