Hiya! I'm rather new to the 6th Gen competitive arena, but I've had some luck with this team. Help would be appreciated! Changes made in
bold
.

Steve (Ferrothorn) @ Rocky Helmet
Ability: Iron Barbs
EVs: 252 HP / 48 Def / 208 SpDef
Relaxed Nature
- Spikes
- Stealth Rock
- Power Whip
- Gyro Ball
Steve is my trusty Lead Pokemon. Sometimes he's taken out before he sets up both Spikes and Stealth Rock, but he's nearly always managed to set up one or the other. He's slow, but a solid contender.

Fish (Crawdaunt) @
Choice Band
Ability: Adaptability
EVs: 4 HP / 252 Atk / 252 Spd
Jolly Nature
- Waterfall
-
Knock Off
-
Superpower
- Aqua Jet
I really like Crawdaunt. He consistently cleans house and picks off straggling 'mon in late game.

Blitz (Zapdos) @
Leftovers
Ability: Pressure
EVs:
252 HP / 252 Def / 4 Spd
Bold
Nature
- Thunderbolt
- Heat Wave
- HP (Grass) (
Ice
?)
- Roost
Zapdos is the bomb. He follows Charizard Y (further down the list) to make quick work of whatever is left behind after Charizard burns a hole in enemy defenses. Heat Wave plays off Charizard Y's Drought, and Thunderbolt and HP Grass are devastating to almost anything that might have killed off Charizard.

Willy (Excadrill) @ Choice Scarf
Ability: Mold Breaker
EVs: 4 HP / 252 Atk / 252 Spd
Jolly Nature
- Rapid Spin
- Earthquake
- Iron Head
- Rock Slide
My Charizard Y and Zapdos are suuuuper Stealth Rock weak, so I've got my Spinner, Willy, to ready the stage for them. I'm not totally sure the Scarf will work out, because it locks me into Spin, but I'm currently trying it out!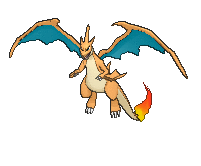 Torch (Charizard Y) @ Charizardite Y
Ability: Drought
EVs: 4 Atk / 252 SpAtk / 252 Spd
Naive Nature
- Fire Blast
-
Earthquake
- Solar Beam
-
Roost
The crux of my team. He usually goes in right after Excadrill has cleared his way to immediately make use of Drought-perks. He burns up everything he can, and then Zapdos follows suit to get those hard-to-reach places with Drought-boosted Heat Wave, Thunderbolt, and HP Grass. Sometimes I like to be unconventional and lead with him, just to mix things up and take my opponent's lead out before it can try anything. It's risky, but it works a lot.

Caprius (Keldeo) @ Expert Belt
Ability: Justified
EVs: 252 SpAtk / 4 SpDef / 252 Spd
Timid Nature
- Calm Mind
- Hydro Pump
- Secret Sword
- Icy Wind
I'm in try-out phase for Keldeo. Considering stall Dusclops (as suggested in a post below) for the position. Not really sure otherwise, and open to suggestions!
Last edited: