And, as if by magic, the webmaster appeared...
Staff member
Admin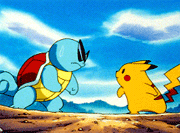 Here Comes The Squirtle Squad!
After catching Bulbasaur and Charmander, Ash and co. come across a bunch of Squirtle who like causing mischief. However the Squirtle Squad are tricked by Team Rocket and kidnap Ash & Co. Can Ash escape and help the Squirtle Squad change their ways??
Visit The Episode Guide
Discuss