And, as if by magic, the webmaster appeared...
Staff member
Admin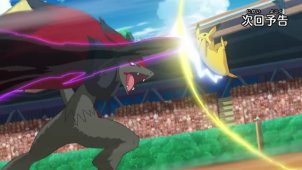 He's Born! The Alolan League Winner!
The battle to become Alola League champion is on. With both sides having lost their Legendary/Mythical Pokémon, Ash was stunned to see that the Lycanroc he was battling was actually a Zoroark. With Ash & Gladion both said to have a similar skill level, the battle rages on with a climatic finish of Lycanroc VS Lycanroc. Will Ash be able to break through and win against Gladion, winning a Pokémon League for the first time?
Visit The Episode Guide
Discuss