Pokémon XY Third Version/Sequel Team​
Makes sense to assume that there will be a sequel or third version to XY, so here is a team I could potentially use. Obviously it doesn't take into account a potential move tutor moves or new megas that could be introduced in the new game, but it's something. I wont use egg moves or hidden abilities, unfortunately.

Gamakichi/Greninja @ Wise Glasses
Surf
Dark Pulse
Ice Beam
Extrasensory
Pretty self-explanatory. Unfortunately since I wont use hidden abilities, I can't take advantage of Protean.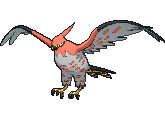 Capt. Falcon/Talonflame @ Flying Gem
Flare Blitz
Acrobatics
Steel Wing
Roost
I figured that Acrobatics is almost as powerful as Brave Bird with no items, so that might be a better option than Brave Bird, since it also suffers from no recoil. Steel Wing is filler (I wish it had 100% accuracy though) and Roost can help recover HP lost from Flare Blitz.

Mucha Lucha/Hawlucha @ Muscle Band
Brick Break
Fly
Rock Slide
Thunder Punch
Unless Game Freak brings back Soaring in the Sky with another Pokémon, I have to stick with Fly, unfortunately. Tried to give it as much type coverage as possible. Of course this moveset could be different if mine has Unburden.


Beerus/Lucario (Mega) @ Lucarionite
Close Combat
Ice Punch
Aura Sphere
Flash Cannon
Close Combat & Flash Cannon get STAB (and Adaptability), while Ice Punch has great type coverage. Aura Sphere is a secondary fighting type move due to Close Combat's limited PP.

Katsuyu/Goodra @ Assault Vest
Dragon Pulse
Sludge Wave
Flamethrower
Thunderbolt
I heard that the Assault Vest is a good item for Goodra, so I'll go with it. Going with the likes of Dragon Pulse & Flamethrower over Draco Meteor & Fire Blast because of stat loss and accuracy respectively.

Navi/Klefki @ Light Clay
Dazzling Gleam
Reflect
Light Screen
Spikes
Light Clay increases the length of turns for Reflect & Light Screen. Spikes can help cripple the other team. Dazzling Gleam so it has some kind of attack.
Last edited: