And, as if by magic, the webmaster appeared...
Staff member
Admin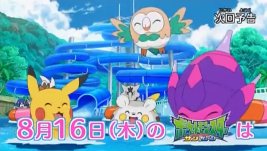 I Choose Here! The Pokémon Steam Paradise!!
As they have been constantly having to assemble to take on the Ultra Beasts that appear in Alola, Ash & Co. are taken to a Pokémon Steam Paradise resort, where they also take their Ride Pokémon in order to get some rest. However, while relaxing, Team Rocket soon appear and kidnap various Pokémon. Will Ash & Co. be able to stop them?
Visit The Episode Guide
Discuss