IceBerg, In 3D Now!
​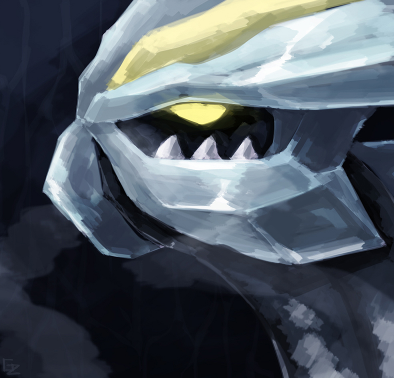 ​

First of all I want to thank Delko for playing such a major part in helping building this team and suggesting changes making it what it is right now so thank you, this has got to be the most fun team I have used in 5th gen and another thanks to Taylor for giving this RMT a name because I was too lazy to think of one .Looking at the current Metagame dominated by weather you see Sun, Sand and Rain.People forget about another type of weather that can be used and that's hail, having overlooked hail myself countless times it took quite a few battles for me to realise that whenever I come up against a Hail team I'm not really prepared due to the lack of uage of the weather and how effective the teams can be as most people are unprepared for them and even if they are Hail is still a very powerful force to be reckon with.As far as the team building process goes we started off with the combination of Abomasnow and Sub+ 3 Attacks Kyurem, wanting to give Kyurem an offensive partner and complete the double dragon synergy of this team we opted for Dragonite who could use Multiscale in the Hail thanks to leftovers.Wanting something to stop Steel types that annoy Kyurem and Dragonite alot Magnezone was added to the mix running a choice scarf.Metagross was added as a Terrakion counter who is a major threat to the team and also a great Stealth Rock user aswell as supporting the team offensivley and finally due to the Stealth Rock weaknesses the team has Tentacruel was the final member added for it's Rapid spin and Toxic Spikes support along with useful resistances which support this team alot.It's been very successfull so far peaking 1366 and due to some mistakes/hax the rating has fallen but I plan to continue laddering with this team in an aim to reach the top 10 off the ladder.
At A Glance
​
Abomasnow (M) @ Expert Belt
Trait: Snow Warning
EVs: 252 Atk / 104 SAtk / 152 Spd
Lonely Nature (+Atk, -Def)
- Hidden Power [Fire]
- Wood Hammer
- Ice Shard
- Earthquake

I'm a big fan of Abomasnow, despite having 7 weaknesses to common types it's such a powerhouse that some people have no answer to.It's great against a bunch of pokemon such as Politoed, Tyranitar and Ninetales being able to OHKO all of them with stealth rock support.Ice Shard is priority and STAB which helps me take on Dragon's, Ground and Flying types with ease if Hazards are up and hail support, it also helps finish foes off.Wood Hammer is such a great move, the recoil can be painful but it OHKOs so many threats like Rotom-w and Politoed for example running any EV sets, don't suggest Giga Drain because I need the raw power of Wood Hammer.Hidden Power lets me OHKO Scizor on the switch and 2HKO bunch of mons like Ferrothorn.Finally Earthquake was added over what used to be protect simply for coverage and hitting Ninetales for Super Effective damage.Expert Belt helps me bluff a choice item and get surprise KOs.


Metagross @ Air Balloon
Trait: Clear Body
EVs: 252 HP / 252 Atk / 4 Spd
Adamant Nature (+Atk, -SAtk)
- Stealth Rock
- Bullet Punch
- Meteor Mash
- Earthquake

This guy is a freaking monster, the amount of hits it can take with max HP and the sheer power it adds to my team making it such a valuable Pokemon for my team.Stealth Rock was the main reason we used Metagross because it's such a reliable Pokemon to set up Stealth Rock thanks to it's bulk.Air Balloon lets it take on a bunch of Pokemon like Landorus and set up SR More easily for me.Meteor Mash is powerful STAB which wrecks **** up if it does not resist it and Bullet Punch is priority to finish things off, Earthquake is used for coverage for things my Steel STAB does not hit such as Lucario and other Steel Types.Overall thanks to his Raw power and great bulk he is key member to this team.


Tentacruel (M) @ Black Sludge
Trait: Clear Body
EVs: 252 HP / 240 Def / 16 Spd
Bold Nature (+Def, -Atk)
- Scald
- Giga Drain
- Toxic Spikes
- Rapid Spin

Due to having a glaring weakness to Entry Hazards Tentacruel was added mainly as a spinnner but it's such a great Pokemon and it supports the team well by spreading status problems to the oppositions pokemon such as Bad Poison via 2 layers of Toxic Spikes and the burn chance of Tentacruel's Scald, Giga Drain is used for Bulky Watters and also Jellicent who tries to block my Rapid Spin along with the status it keeps my field clear of annoying hazards that my team hates.Combined with some great resistances such as water and fighting Tenacruel is very good supporter to the rest of my team.Black Sludge is used over Leftovers simply incase of Trick which can help cripple the opponents team even more with Hail and Toxic Spikes support.


Magnezone @ Choice Scarf
Trait: Magnet Pull
EVs: 4 HP / 252 SAtk / 252 Spd
Timid Nature (+Spd, -Atk)
- Thunderbolt
- Volt Switch
- Hidden Power [Fire]
- Flash Cannon

Scarf Magnezone is the nightmare for Pokemon such as Scizor that can cause this team so much trouble, it's ability lets it trap Steel types and proceed to KO them with Electric and Fire Attacks, Jirachi, Scizor, Ferrothorn are pretty annoying pokemon for a Hail team to face so this is a great Pokemon to have on my team.Volt Switch is to scout the team early game, Thundebolt is STAB against Bulky water types, Flash cannon is secondary stab and hits Terrakion for super effective damageand finally HP Fire the crux of the set allowing me trap to ONKO/2HKO most steel types.


Dragonite (M) @ Leftovers
Trait: Multiscale
EVs: 4 HP / 252 Atk / 252 Spd
Adamant Nature (+Atk, -SAtk)
- Dragon Claw
- ExtremeSpeed
- Earthquake
- Dragon Dance

Here comes the first of my dual dragon core this team was build around and we start off with arguably the best Pokemon in the entire Metagame (Not counting ubers) Dragonite, thanks to Rapid Spin support through Tentacruel it can almost always get it's godly Multiscale ability to set up 1 or 2 dragon dances thanks to leftovers it can nullify the Hail's damage.I run a slightly different move set with Earthquake over Fire Punch to catch Pokemon such as Heatran off guard and also because of Magnezone already dealing with most steel types I face.Dragon Claw is STAB and can rip teams apart late game after a dragon dance, Extreme Speed is priority and is for finishing off weakened threats and for Pokemon that carry Priority moves also. I have been debating about running a slight more bulky set so let me know what you think about that.


Kyurem @ Leftovers
Trait: Pressure
EVs: 56 HP / 236 SAtk / 216 Spd
Modest Nature (+SAtk, -Atk)
- Substitute
- Blizzard
- Dragon Pulse
- Focus Blast

The MVP, the Star Of the Show, the god.I don't know what to call Kyurem is just such an Anti Metagame Pokemon that almost no teams can take on once everything is set up.It can set up Substitite on a huge chunk of the metagame and not many Pokemon like take STAB Blizzards in teh hail and STAB Dragon Pulses too, and if they can handle them I'm sure they don't like Focus blast tearing them apart.The EVS are simple, Max Speed, enough HP to get 101 Subs and switch into Stealth Rock 5 times, the rest is dumped into Special Attack to let him wreck teams apart.Leftover help Kyurem with it's only form of recovery and thanks to it's typing the Leftovers actually work in Hail. With decent bulk and very scary offensive stats it's the perfect late game sweeper to use in a Hail team.
Closing Words
​
Thanks for giving this team a read, it's been great for me but does have his flaws such as Sun teams so hopefully you can help me out to make this team even better.I want to thank Delko again for all the help he gave me in making this team.I leaving with a final look at my Pokemon and an Importable version of the team below.
​
I
mportable


PHP:
Tentacruel (M) @ Black Sludge Trait: Clear Body
 EVs: 252 HP / 240 Def / 16 Spd
 Bold Nature (+Def, -Atk)
 - Scald
 - Giga Drain
 - Toxic Spikes
 - Rapid Spin

  Abomasnow (M) @ Expert Belt
 Trait: Snow Warning
 EVs: 252 Atk / 104 SAtk / 152 Spd
 Lonely Nature (+Atk, -Def)
 - Hidden Power [Fire]
 - Wood Hammer
 - Ice Shard
 - Earthquake

  Dragonite (M) @ Leftovers
 Trait: Multiscale
 EVs: 4 HP / 252 Atk / 252 Spd
 Adamant Nature (+Atk, -SAtk)
 - Dragon Claw
 - ExtremeSpeed
 - Earthquake
 - Dragon Dance

  Magnezone @ Choice Scarf
 Trait: Magnet Pull
 EVs: 4 HP / 252 SAtk / 252 Spd
 Timid Nature (+Spd, -Atk)
 - Thunderbolt
 - Volt Switch
 - Hidden Power [Fire]
 - Flash Cannon

  Metagross @ Air Balloon
 Trait: Clear Body
 EVs: 252 HP / 252 Atk / 4 Spd
 Adamant Nature (+Atk, -SAtk)
 - Stealth Rock
 - Bullet Punch
 - Meteor Mash
 - Earthquake

  Kyurem @ Leftovers
 Trait: Pressure
 EVs: 56 HP / 236 SAtk / 216 Spd
 Modest Nature (+SAtk, -Atk)
 - Substitute
 - Blizzard
 - Dragon Pulse
 - Focus Blast