So, this team isn't for anything specific like the Battle Subway or whatever...it's just my in game team for Pokemon White that I've grown rather fond of. Feedback would be excellent, as I feel that there are holes in the team that need to be fixed.
AT A GLANCE: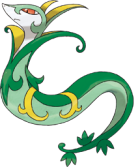 :497: Serperior w/Overgrow @ Big Root
Calm nature
- Toxic
- Leech Seed
- Leaf Blade
- Light Screen/Reflect
Wall and sapper. Between Toxic and Leech Seed, he can take down most opponents and stall them to death. Having only one attack move can be irritating, however, especially when the opposing Pokemon resists Grass.
:593: Jellicent w/Water Absorb @ Nevermeltice
Niave nature
- Recover
- Surf
- Ice Beam
- Shadow Ball
Consider replacing Recover with Calm Mind to make him stronger. Otherwise, he has nice coverage and has served me well.
:545: Scolipede w/Poison Point @ Black Sludge
Sassy nature
- Megahorn
- Poison Jab
- Earthquake
- Rock Slide
One of my physical attacker. I'd like to give him Swords Dance, likely getting rid of Rock Slide, but this is what he has for now.
:530: Excadrill w/Sand Force @ Expert Belt
Calm nature
- Swords Dance
- Earthquake
- Rock Slide
- Brick Break
I'm pretty pleased with this guy. One Swords Dance is usually enough to deal with most Pokemon, and Earthquake and Rock Slide give him good coverage.
:596: Galvantula w/Compound Eyes @ ???
Bold nature
- Hidden Power (Fire, base ~50)/Thunder Wave
- Volt Switch/Thunder Wave
- Thunder
- Signal Beam
With Compound Eyes, Thunder is 91% accurate, and hits hard. I feel like I need Hidden Power, as my team otherwise lacks a Fire-type move (one of its biggest shortcomings). However, the reliable paralysis of Thunder Wave is nice, and Volt Switch is good for scouting and getting some decent damage in. I'm pretty unsure about what to do with her =/
Signal Beam will eventually be replaced with Bug Buzz.
:518: Musharna w/Synchronize @ ???
Lax nature
- Yawn
- Moonlight
- Psychic
- Shadow Ball
Special Attacker and wall. He can take hits well and reliable sleep and decent recovery help him last. I'm open to suggestions on how to maximize his potential, though.
I'm completely open to suggestions on moves and Pokemon.
Thanks in advance for the input!