And, as if by magic, the webmaster appeared...
Staff member
Admin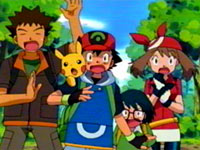 In The Knicker Of Time!
With his old friend Brock back travelling with him, Ash finds things are returning to normal with all the successful battles. However Ash & Co. see a Zigzagoon and a guy chasing it to capture it. it turns out his name is Nicolai and he is training Pokémon to be able to beat Norman. May & Max dont like this so May challenges him to a battle. Will she win her first battle?
Visit The Episode Guide
Discuss