And, as if by magic, the webmaster appeared...
Staff member
Admin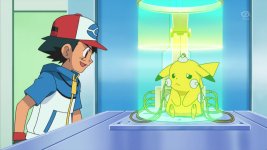 To the Isshu Region! Zekrom's Shadow!!
It's time for the next leg of Ash's journey to become a Pokémon Master. Heading to Isshu with Professor Oak and his mother, Ash soon finds trouble when Team Rocket try to capture Pikachu. However, during this, a stray thunderbolt from Zekrom comes down and hits Pikachu, causing Pikachu to be unable to use its Electric moves. Will Ash be able to help Pikachu?
Visit The Episode Guide
Discuss