And, as if by magic, the webmaster appeared...
Staff member
Admin
Island of Giant Pokémon! (017)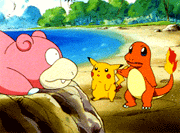 Island of Giant Pokémon!
After being thrown from Gyarados' Twister attack, Ash & co. are seperated from their Pokémon. Can they put their differences aside to find eachother and save themselves from the Huge Pokémon or will they turn on eachother?
Visit The Episode Guide
Discuss