hey guys, hope you find something you want from my shop.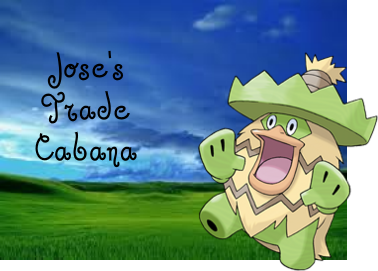 RULES:
1. All serebii forum rules apply
2. NO HACKED POKEMON, I dont give you hacks, I dont want them in return. if you find something i gave you is a hack feel free to tell me and i will give you a full refund.
3. please be polite, i do have a life so dont expect me to be on 24/7 at your command.
4. i dont mind if you pm in fact i prefer it. so feel free to pm me with offers.
I seem to be pretty forgetful so if we had been scheduling/supposed to trade but i didnt please remind me. I try my best to keep track of all my trades. I'll probly be implementing a system so i can keep track of all of them soon.
http://www.serebiiforums.com/showthread.php?t=530771
check out jaisey's shiny trade shop! great person to trade with.
DW females i dont have
Eggmove pokemon i dont have
Pokemon w/ good ivs
Shinies w/good ivs
All battle subway items
Eevee w/ wish, yawn
Ferroseed w/ leech seed, stealth rock and 31hp ivs or stealth rock, spikes and 31hp ivs
Chikorita w/ leech seed and 31hp ivs
phanphy w/ ice shard
Snorunt w/spikes
Charmander w/ dragon dance, outrage, dragon pulse
Pichu w/ wish
Deino w/dark pulse, ice fang
Absol w/ sucker punch
Carracosta w/ flail
Aipom w/ Fake out, pursuit
Infernape w/ thunder punch or blaze kick
Shieldon w/ stealth rock
Growlithe w/ close combat, flare blitz, howl, crunch (can have DW ability upon request)
Riolu w/ blaze kick, high jump kick, crunch, vacuum wave
Elekid w/ firepunch, ice punch
Scraggy w/ Fake out, Thunder punch, fire punch
Zorua w/ dark pulse, extrasensory
Weezing w/ pain split, curse
Dratini w/ extreme speed, iron tail
Thats all i have for now. if you want a specific poke and it's not on this list just pm me the pokemon you want with what moves and ill do my best to get you it. by doing this not only do you get what you want but i expand my eggmove list
Shinx
Surskit
Smeargle
Gliscor
Tropius
Glameow
Shellos
Lickitung
Vulpix
Poliwag
Stantler
Dratini
Taillow
Nidorina
Kanghaskan
Ponyta
Carvanha
Eevee
Growlithe
Lapras
Chimchar naive x/31/31/31/31/31 w/ thunderpunch
Tepig UT
Zorua UT
Sneasel UT flawless
Blaziken Hardy 252att 252speed
Flare Blitz, Brave Bird, Earthquake, High Jump Kick

Carracosta Jolly 252att 252 speed
Shell Smash, Waterfall, Aqua jet, Flail


I also EV train pokes if you want me to EV train for you please use this form when requesting it:

Pokemon:
Ev spread:
what you are offering:
Raikou BT
Ho-oh BT
Heatran UT
Cresselia UT (in masterball)
I can provide the PKRS
Last edited: