And, as if by magic, the webmaster appeared...
Staff member
Admin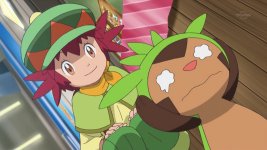 Fierce Fighting at the Kalos League! Gather, All of My Passion!!
The Semi-Finals have passed and it's almost time for the finals of the Kalos League, and Lumiose City is filled with excitement. As it's the day before, everyone is out celebrating and relaxing before the finals, however during the celebrations, Chespin gets lost only to be found by Alain's old friend, Mairin. To top it off, Lysandre appears and wants to talk to Ash. What does Lysandre want with Ash?
Visit The Episode Guide
Discuss