Friendly Neighbourhood SerebiiBot
Serebii.net has just updated with this:
Be sure to check the last couple of updates Be sure to like our new
FaceBook Page
.
With the news of Black 2 & White 2, the
Chatroom
has been rife with discussion of the possibilities that are to come while the
WiFi Chatroom
has been a place for people to hunt down the new Dream World Pokémon for trade and to battle other trainers so be sure to visit them. Our
Forums
have also had these discussion and are a bustling trade and competitive section for the games.
Last Update:
08:12 BST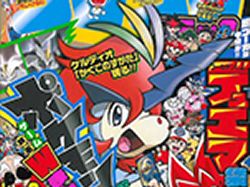 [h=3]In The Games Department[/h] Pokémon Black 2 & White 2 - Keldeo Resolution Forme
The first image of CoroCoro's cover has been revealed and has shown Keldeo's Resolution Forme. This form is only a slight change to Keldeo's appearance but features a long blue horn and a longer mane. We'll provide further images of CoroCoro, including a bigger picture of the cover if it comes, as the next few days progress
[SUB]
-- Delivered by Feed43 service
[/SUB]
More...