And, as if by magic, the webmaster appeared...
Staff member
Admin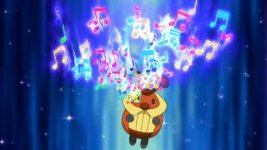 Grand Festival! The Art of Flame & Ice!
It's time for the Grand Festival of Sinnoh and many co-ordinators are taking part. Meeting up with her rivals Zoey, Nando, Kenny & Ursula as well as Jessie in disguise, Dawn faces her toughest challenge yet. The first round is the appeal round and all six co-ordinators have various appeals planned. Will they all get through to the next round?
Visit The Episode Guide
Discuss