And, as if by magic, the webmaster appeared...
Staff member
Admin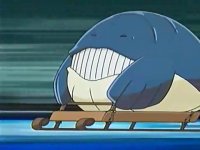 The Stray Child Wailmer!
On their way through the islands of Canalave City, Ash & Co. are ambushed by a trio of Luxio, Nidoran & Whismur. The Pokéon steal supplies from Ash & Co. and disappear. Ash & Co. decide to investigate and find that they were tending to a Wailmer that got stuck in the sewer. Ash & Co. decide that they have to help get the Wailmer out.
Visit The Episode Guide
Discuss