And, as if by magic, the webmaster appeared...
Staff member
Admin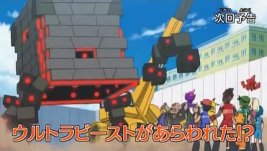 Leap 'n' Climb: Stakataka!
While at the Pokémon School with various athletic equipment, a Stakataka appears. The group immediately try to stop its rampage, but their Beast Balls won't hit it. As it's not moving, the group decide to leave it and regroup for the next day, but when they return it has started to move towards the city. Will Ash & Co. be able to stop it?
Visit The Episode Guide
Discuss