And, as if by magic, the webmaster appeared...
Staff member
Admin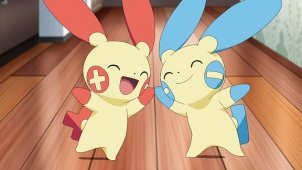 Leave Everything To Us! The Plusle and Minun Handymen!​
A pair of Plusle and Minun Handymen are asked to look after a group of Tauros. Following befriending Ash & Goh when an issue happened in Cerise Labs, Ash & Goh decide to help. However, Team Rocket soon appear to try and get the Tauros. Will they be able to stop Team Rocket?
Visit The Episode Guide
Discuss