And, as if by magic, the webmaster appeared...
Staff member
Admin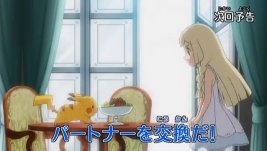 Lillie, Take Good Care of Pikachu
As part of a project, Professor Kukui suggests to everyone that, for a night, they should exchange their partner Pokémon to the others in order to make sure everyone is comfortable with more than just their partner Pokémon. Due to this, Lillie gets Pikachu but as she is still afraid to touch Pokémon other than Vulpix, she expresses concern. She then comes up with the idea that battling with Pikachu may help her overcome her fears so she challenges Hobbs to a battle. Will she overcome her fears?
Visit The Episode Guide
Discuss