And, as if by magic, the webmaster appeared...
Staff member
Admin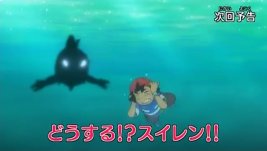 Little Wishiwashi Isn't Lacking, It's the Lord of the Lake!
While on Akala Island, Ash decides to take a break and goes fishing with Lana. Hearing a rumour of being able to fish up the lord of the lake, Lana borrows a boat and the fishing begins. However, when she manages to hook the lord of the lake, Lana gets excited and the battle begins. Will she be able to get it?
Visit The Episode Guide
Discuss