Sorry for the uncreative title, I was aiming at something that sounded... not horrible.
Simply put, the "Lost Heroes Challenge" thread definitely caught my eye and I think I'd like to give it a shot. Without further adieu, I'll present the team, with Lilligant as my Lost Hero.
Team Building process (if it interests you, otherwise skip right ahead). Fair warning, its big.
;38; ;637;​
Since about the day Serebii.net had a full list of sprites and stats of all the fully evolved Unova mons, Volcarona/Ulgamoth stood out to me above all else. And when further details began coming in (moves, translations, all the stuff we were drooling over back then). And, I have been absolutely in love with Volcarona, as my avvy/sig may indicate. Building a Sunny Day abusing team around this beast was a priority... and then Drought Ninetales was released. Yeah, you can guess I was pretty happy. Ninetales was my support, Volcarona my new baby.
;38; ;637; ;586;​
Next, I thought a Chlorophyll Abuser would be a logical step. After experimenting around with Tangrowth, Shiftry, and Exeggutor, I found them just... too slow. I gave serious thought to Chlorophyll Leafeon, but decided Sawsbuck may be more useful on account of actually having a movepool.
;38; ;637; ;586; ;134;​
Since I had 2 Fire types and a Grass type, with a notable Gyarados issue, I at first thought "Drought and Water type... obviously not going to work". After awhile, it dawned on me that opposites not only attract, they also have an indescribable synergy. Yin and Yang. Vaporeon has always been successful for me, and while she is overall very uncomfortable under the sun destroying Scald, it worked fair enough in my mind that she counters tyranitar, Politoed, Hippowdon, and Gyarados in one bundle, with Wish to boot.
;38; ;637; ;586; ;134; ;237;​
I noticed I had a few issues still unchecked. Volcarona absolutely under any condition needs a Spinner, something to take Rock moves, and swat down Tyranitar (whom really can't stand against Vaporeon and Sawsbuck anyway). The team was, so far, Specially defensive, so Intimidate Hitmontop seemed like a great fit.
;38; ;637; ;586; ;134; ;237; ;381;​
Finally, I noted that Volcarona, Ninetales, and Hitmontop possesed great Steel breaking power, with none left unchecked. I thought "well, plenty of great Dragons to pick from" and eventually stuck to Latios, who made a pretty killer sweeping duo with Volcarona. His great Speed, power, and a few tricks up his sleeve seemed like a match made in heaven.
So what went wrong?​
Sawsbuck was horrible. Too frail to get into the fray, needed Swords Dance and Life Orb to accomplish ANYTHING, and was generally utilized as a very brittle meat shield or speedbump against all who opposed me. Dragons just laughed, Salamence above all else, while Gyarados, of all things, put a dead stop if the dang thing actually got a boost. It had to go. But a Chlorophyll sweeper was a must.
;38; ;637; ;549; ;134; ;237; ;381;​
After quite awhile of lurking and a retry of odd Chlorophyll users, Tangrowth again, and almost giving up on Drought abuse in general I dug up a gem in that abyss we call RU. The moveset was found by a friend of mine, who found it in an old Smogon RMT. My God... Lilligant is absolutely a strange case of supporter or sweeper, but after some tweaking on EVs and dropping a move for Aromatherapy, I had ended up with the perfect blend of supporter, status inducer, cleric, revenge killer, and an extra artillery piece right alongside Latios. Things were much better with that stupid deer gone. But Hitmontop was... sort of the new speedbump/meat shield, and generally was not going well.
A few fighting types, spinners, failures, and liters of soda later... I ended up at Cobalion, and in all irony checked out the Lost Heroes thread, and thought "hell, a third of my team qualifies on complete accident. Cool".​
The team at a glance:​
;38; ;637; ;549; ;121; ;645; ;381;
Ninetales
@ Leftovers
Ability: Drought
EVs: 64 HP/192 Sp. Atk/ 252 Speed
Nature: Timid
-Fire Blast
-Will-o-Wisp
-Solarbeam
-Hidden Power [Ice]
The obvious lifeblood of the team, Ninetales is there for a few reasons. She sets up Sunlight upon coming in, acts a decent bit of firepower (this poor pun has been dragged to death by now), and as an interesting way of screwing with Tyranitar, Rotom-W, Scizor, and Jellicent at times. Solaris not to be fired off blindly: believe me, I am very aware of what happens to a mispredicted Solarbeam. It is primarily used to slap around Drought weakened Water types and Ground type switchins, and after the initial Solarbeam, Tyranitar would kill to switch into it and eat my poor fox, only to be burned instead. Hidden Power Ice hits Dragon, Ground, and Flying switchins hard, while Fire Blast hits hard and consistent.
EVs are arranged to give a bit of bulk, plenty of power, and enough Speed to smack around non-Scarfed Haxorus.
Helios
@ Lum Berry
Ability: Flame Body
EVs: 80 HP/176 Sp. Atk/252 Speed
-Fiery Dance
-Quiver Dance
-Hidden Power [Ground]
-Bug Buzz
The cornerstone and primary sweeper the team itself was built around.
Volcarona aims to throw out a Quiver Dance as soon as the opponent is sufficiently battered down by Ninetales, Latios, and everyone else has taken their toll. The bulky spread allows the moth to survive 2 Stealth Rock switchins, if necessary, and allow him to tank hits on the Special side and increase the odds of living Sun weakened Aqua Jets, while retaining maximum Speed and significant offensive power.
Lum Berry prevents Thunder Waves, and most importantly Prankster Stun Spores from a certain ball of troll-err, cotton, and crippling Toxics. It feels... well, wrong to give him a Life Orb, being mauled by hazards of all forms more than basically anything I can imagine.
Hidden Power Ground was chosen to allow a Speed IV of 31, and to smack Heatran. I have doubts of its usefulness at times, maybe HP Electric for Gyarados and Jellicent, or Dark for Air Balloon Chandelure.
Latios
@ Expert Belt
Ability: Levitate
EVs: 4 HP/252 Sp. Atk/252 Speed
Nature: Timid
-Draco Meteor
-Memento
-Thunderbolt
-Hidden Power [
Fire
]
Really, when you need something to crack a few skulls, revenge kill, and set up a certain moth for the checkmate, this is the way to go.
Draco Meteor, even though its typically unboosted, is very hard to stomach for the majority of OU, and all those Steel types that are normally very happy to come in typically fear a Sun Boosted HP Fire... though the fear is misplaced.
Thunderbolt is used over Surf for obvious reasons, and lets Latios put some hurt into the Water Types that may gain weather control. It also breaks Air Balloon Heatran's only hope of survival, and gives me something to blindly throw around. Gyarados really hates it as well
Hidden Power Fire adds coverage against Scizor, Ferrothorn, Forretress, and Bronzong, and only leaves him walled by Heatran, who can be crushed by Landorus or, if needed, Volcarona.
Memento gives the great Dragon a final, devastating tool to not only evade Pursuit traps at low health, but also put Volcarona into a very dangerous advantage against most anything. After firing off Draco Meteor at low health, it keeps him dangerous.
Starmie
@ Expert Belt
Ability: Natural Cure
EVs: 4 HP/252 Sp. Atk/252 Speed
Nature: Timid
-Psyshock
-Rapid Spin
-Ice Beam
-Thunderbolt
Tentacruel was... meh, but Starmie has so far picked up a lot of slack. The starfish is my Spinner, which is an absolute requirement with Volcarona and Ninetales. EVs are fairly standard for an offensive spinner like Starmie, maxing out damage and Speed to help in revenge killing fast threats like Terrakion, Virizion, Landorus, Tornadus, and Mienshao.
Ice Beam and Thunderbolt are the infamous BoltBeam on perhaps its best known user, and rarely disappoint. Starmie particularly loves it to nail plenty of Water, Grass, and Dragons, and still holding decent power over Ground with the lack of Hydro Pump. Psyshock murders Virizion, Conkeldurr, and Tentacruel, who are bulky enough to take the other attacks and lash out with a super effective attack, and even allows some psuedo-mixed attacking.
And the lovable little thing even handles status for me. Good bye Tentacruel, hello competent spinner/revenge killer/chipper/status sponge.
Gaia
@ Life Orb (maybe Yache Berry)
Ability: Sand Force
EVs: 4 HP/252 Atk/252 Speed
Nature: Jolly
-Earthquake
-Rock Polish
-Stone Edge
-U-Turn
I've tried more than a few physical attackers in this spot to cover weaknesses, smash a few pink eggs, and counter TF Snorlax. Mienshao, Cobalion, Torterra, Metagross, and Scrafty, I believe were most of them. Oh, and Conkeldurr. Believe me, they didn't work in one way or another.
Landorus' role is to troll U-Turn, which is as we all know extremely annoying, spam U-Turn to get matchups into my favor, crush Tyranitar, and act a strong physical attacker to balance out my 5 Special pokes while also checking Sand teams.
He also rolls a few things together from some of the aformentioned physical attackers: Mienshao's high damage output and scouting ability, high Speed, and good coverage, but also adds some useful resistances such as a Bug resist coupled with Defense (Volc and Ninetales don't take Megahorn and U-Turn very well), and an immunity to Electric, Ground, and Sandstorm, and even has his Water weakness patched by Ninetales, Latios, and Starmie.
EdgeQuake is the perfect coverage for Landorus, abusing STAB and Sand Force should I be facing Sandstream. U-Turn allows scouting, and getting better matchups against whatever Tyranitar runs to.
Rock Polish lets me setup if given a free turn, and bulldoze through Heavy Offense, and is faster than just about anything: even Chlorophyll boosted Sawsbuck/Leafeon fall short.
Life Orb is nice for damage, Yache can cover me from sneaky Ice Beams and Hidden Power Ice Mienshaos.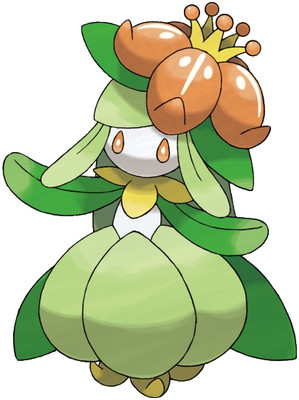 Lilligant
@ Life Orb
Ability: Chlorophyll
EVs:
32 HP, 248 Sp. atk, 4 Sp. Def, 224 Speed
Nature: Modest
-Leaf Storm
-Sleep Powder
-Solarbeam
-Hidden Power [Rock]
EVs updated
.
Behold, my Lost Hero. Though with all respect she's at least equal to Latios in overall success.
My. God. Brace yourself for: more text wall. Sorry.
The EVs and such probably look confusing, so allow me to explain.
32 HP EVs hit 289 HP, rounding down Life Orb damage.
224 Speed hits 271 Speed, outrunning Timid SpecsToed and all Scizor, and hits a jaw-dropping 542 Speed that outruns Scarfed Timid Starmie and anything slower, which is basically 96%+ of OU.
248 Sp. Atk is to maximize damage output, scoring incredible damage with Leaf Storm and Solarbeam, which really gives opposing weather starters one hell of a bad day. The remaining EVs were placed in Sp. Def to take Surfs and Earth Powers better, and to prevent Download from raising Sp. Atk.
Now for moves. Leaf Storm seriously hits harder than my Latios' Draco Meteor, and OHKO's Landorus, Jellicent, 252/0 Gliscor, Politoed, Hippowdon, and Donphan no questions asked. Its a great way to hit and run, revenge kill, and really call down a hammer at a moments notice.
Sleep Powder, behind Chlorophyll's boost allows her to cripple anything I may need, and keeps her dangerous after firing off Leaf Storm and not being forced out.
Solarbeam further abuses Sun and her high Sp. Atk to hit hard without needing Leaf Storm, but is obviously useless outside Sunlight. It also allows a few 2HKO's on bulky DDGyara, Tornadus (50% min on 4/0 Timid), and pushes Naive 4/0 Salamence into Hidden Power Rock's KO range; all without Stealth Rock and Leaf Storm's side effect.
Hidden Power Rock decimates Volcarona and slams Dragonite and Salamence after Multiscale is broken. Generally, I fling Sleep Powder at Dragonite as it will survive Hidden Power even without Multiscale.
Generally, she murders something with Leaf Storm, debilitates something else with Sleep Powder, and causes a massive dent in something else on a bad day. I love it.
Issues​
-Snorlax. Especially with Choice Band. Landorus is 2HKO'd by Sun Boosted Fire Punch, and is my only check. Oh well.
-Starmie. Ice Beam destroys Lilligant and Latios, Thunderbolt for Tentacruel, Hydro Pump for everything else. Lilligant outspeeds all versions, but can't directly switch into anything but Surf. My Starmie doesn't run HP Fire, thus can revenge non Scarf HP Fire versions.
-Tentacruel? Not no more.
-Mixed Ttar can crush Landorus via Ice Beam, may throw a Yache Berry on it for the funny.
-No hazards, no Magic Bounce. Its not a terrible loss overall.
-Trick Room. I have no Taunt, and my slowest poke is Lilligant out of sun, or Volcarona in sun. Reuniclus has no trouble getting it up either.
Thanks for withstanding the text wall and reading along
I am open for suggestions.
​
Last edited: