And, as if by magic, the webmaster appeared...
Staff member
Admin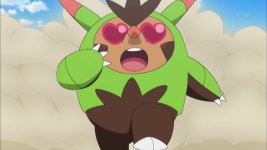 Hot-blooded Quilladin! Squishy is Being Targeted!!
While training for her next Pokémon Showcase with her Eevee, Serena is stunned to see a wild Quilladin. This Quilladin has rushed over because it is seemingly infatuated with Serena's Eevee at first sight. While Quilladin keeps trying to express its interest in Eevee, Eevee has a different reaction causing Quilladin to want to try harder. Will Quilladin be able to show its love for Eevee?
Visit The Episode Guide
Discuss