Magnet Risers

VS
Omega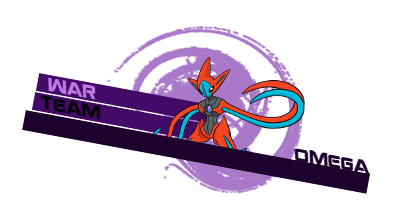 Rules:
~5th Gen OU 5v5 War. First clan that gets 3 wins is the
winner
.
~All battles will be best of 3. Players are allowed to change teams in between matches.
~ All battles will be 6 on 6 lvl 100 OU standard rules.
~ Anything smogon banned will be banned for this war including Drizzle+Swiftswim and Garchomp.
~ No trolling, flaming, or spamming!
~ The results of each battle needs to be posted and confirmed on this thread.
~ All battles must be done on PO, using the Smogon Server.
Teams
Magnet Risers
-Rairyan
-Aenea
-Rockstar
-Albyness
-PokeSonic(WiFi)
Substitutes
-Spencer
-battlemaster123
-Winkledink
-Muzic
-Trickster
Omega
- matgonor
- Skarmory7
- Silver_Anarchy_17
- QuoteMaster
- PsiOmega(WiFi)
Substitutes
TBA
Match-ups
Aenea vs matgonor
Rairyan
vs QuoteMaster
Albyness
vs Silver_Anarchy_17
Rockstar vs
Skarmory7
PokeSonic
vs PSiOmega(WIFI)
​
Last edited: