And, as if by magic, the webmaster appeared...
Staff member
Admin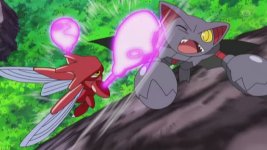 Air Battle Master Appears! Gliscor VS Scizor!
On their way to the next town, Ash & Co. discover a Pokémon battle is taking place. This battle is between a Scizor & Chimecho. The gang soon learns that the trainer is the Air Battle Master and specialises in aerial Pokémon combat. Ash is eager to challenge him with his Gliscor. However, the battle ends up being a lot harder than he anticipated so Ash decides to train Gliscor to be even better...
Visit The Episode Guide
Discuss