And, as if by magic, the webmaster appeared...
Staff member
Admin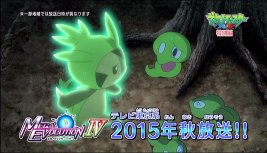 Mega Evolution IV
Alain's journey in pursuit of becoming the strongest once again takes him to the Kalos region. Wanting to become even stronger, he bets his Mega Ring and Mega Stone on being able to defeat 10 Mega Evolution users in a row.
Alain throws himself into battle. Mairin is worried sick about Alain. And Mairin's partner, Hari-san the Chespin, meets a mysterious being. It all leads up to something seriously major..
Visit The Episode Guide
Discuss