And, as if by magic, the webmaster appeared...
Staff member
Admin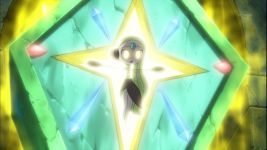 Meloetta and the Abyssal Temple!
While training for the Unova League, Meloetta decides that it wants to practice against Ash. However, during training, another character comes in and attacks Ash thinking he was attacking Meloetta. Learning that the character is Meloetta's protector, Ash & Co. soon learn of a monitoring device watching Meloetta. In haste, they leave only to find that the Team Rocket boss, Giovanni, has returned to Unova and intends to capture Meloetta. Will Ash be able to protect Meloetta?
Visit The Episode Guide
Discuss