And, as if by magic, the webmaster appeared...
Staff member
Admin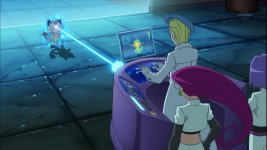 Team Rocket VS Team Plasma! Meowth and Colress!!
Having infiltrated Team Plasma's hideout, Meowth confronts Colress and tries to convince him to switch sides to use his skills to work for Team Rocket. Colress, however, is insistent that he can awaken Meowth's true powers using his machines and attempts it, with Jessie & James watching from afar. However, as Meowth has specially trained his mind to prevent being put under control, things look bleak for Colress until the machine finally puts Meowth under control and starts attacking with its Fury Swipes until Colress has him turn on Jessie & James. Will they be able to snap Meowth out of it?
Visit The Episode Guide
Discuss