And, as if by magic, the webmaster appeared...
Staff member
Admin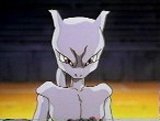 Mewtwo Strikes Back!
Ash, a rising pokémon trainer gets called to New Island by the best Pokémon Trainer. When he gets there he finds its Mewtwo, the most powerful Pokémon who has a vendetta against humans and plans to wipe out the world leaving nothing but him and his clone pokémon. But then Ash and the rarest Pokémon Mew, fight to stop him.
Visit The Movie Guide
Discuss